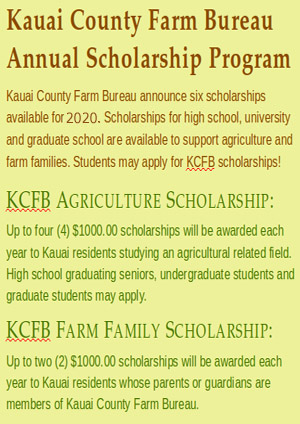 Welcome to Kauai County Farm Bureau's website.
Affiliated with the Hawaii Farm Bureau Federation and the American Farm Bureau, Kauai County Farm Bureau is a grassroots member based non-profit organization of farming families and friends of farmers united for the purpose of analyzing problems and formulating action to ensure the future of agriculture, promoting the well-being of farming and enhancing the local economy. Please contact us to find out more about Kauai County Farm Bureau and to join us in supporting Kauai farmers.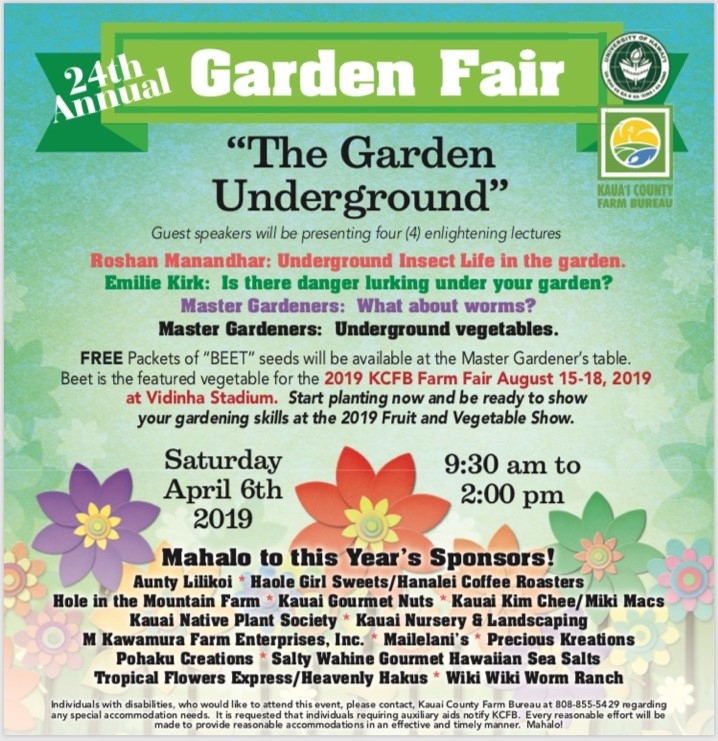 Click to view the Garden Fair Tabloid
Scholarship Recipients for 2018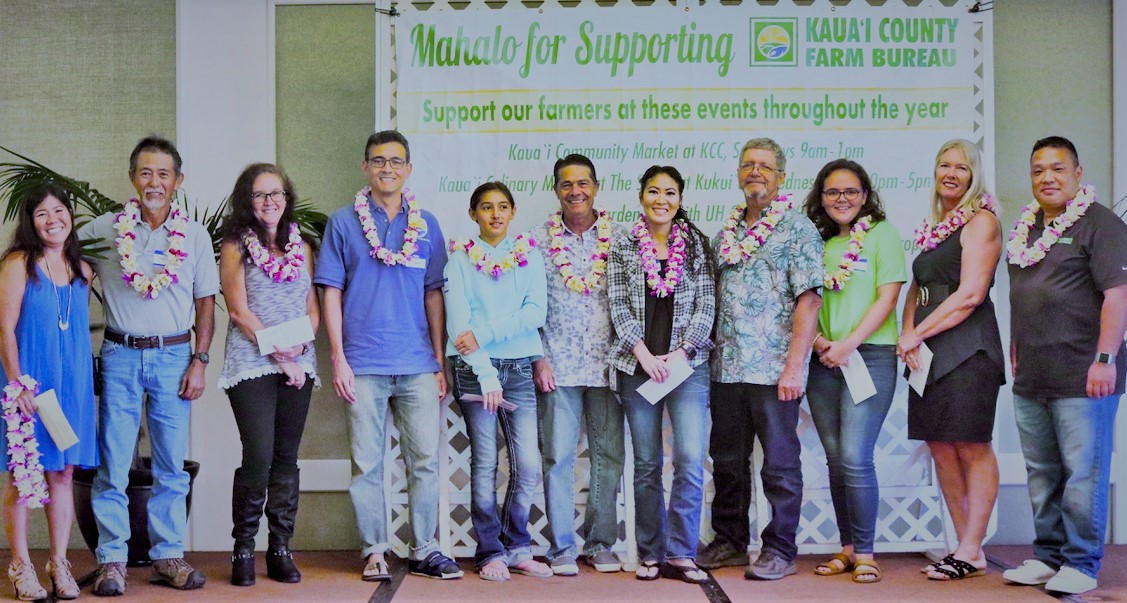 2018 KCFB Scholarship Recipients
(left to right):
Joni Ito, KCFB Education Committee Chair
Rod Haraguchi, KCFB Vice President
Mrs Bukoski, receiving scholarship for Billie Ann ~ Agricultural undergraduate scholarship
Ryan Oyama, KCFB Treasurer
Rayven Orsatelli, 4-H Leadership conference scholarship
Johnny Gordines, KCFB President
Lyndsey Haraguchi-Nakayama ~ Farm Family scholarship recipient ~ PhD graduate studies
Jerry Ornellas, KCFB Board member
Lael Bukoski, KCFB Scholarship recipient
Christina Martiney, KCFB Graduate student in Agricutlture scholarship recipient
and Hawaii Farm Bureau's Executive Director, Brian Miyamoto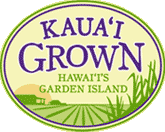 Kauai Grown In cooperation with the County of Kauai, Kauai Grown is our latest program to brand and market Kauai agricultural products, and recognizes those retailers and restaurants that support our farmers. For more information, visit kauaigrown.org
Support us weekly at these farmers markets:
Kauai Community Market's Annual Holiday Fair!

Purchase Kauai Grown products at our two weekly farmers markets. More Info »
» Kauai Community Market, Saturdays in Lihue
» Kauai Culinary Market, Wednesdays in Poipu
Annual Programs Kauai County Farm Bureau organizes several programs and events each year to share agriculture with our community and support area farmers: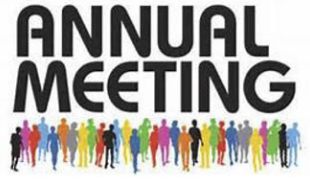 Annual Members Meeting & Board of Directors' Elections
August 2018 at the Kaua`i War Memorial Convention Center Exhibit Hall Held every summer for fellowship and information exchange. New members and guests welcome!

Kauai County Farm Bureau Fair
The largest family event on Kauai August 24, 25, 26 & 27, 2017. For more information, applications and schedule please visit
kauaifarmfair.org

23rd Annual Agriculture & Environmental Awareness Day An annual "Ag in the Classroom" program for Kauai 5th graders held each May, in partnership with University of Hawaii College of Tropical Agriculture & Human Resources (CTAHR).
May 2018, date to be determined - Kauai's 5th Graders are coming to visit the UH Wailua Research Station.

Ag Scholarship Program
Six scholarships available to support students of agriculture and farm families.
KCFB scholarships
Deadline: March 30, 2018
Farmers Markets Kauai County Farm Bureau currently hosts two value added farmers markets in conjunction with our island partners. Support our Kauai farmers and the small businesses that support them at these weekly Markets featuring Kauai Grown products.

Kauai Community Market, a cooperation with Kauai Community College, is a weekly Saturday farmers market in central Lihue featuring Kauai Grown items from Hanalei to Kekaha - fresh flowers, produce, tropical fruits, plants, seeds and starts, and a wide range of value added products fresh from the farm – honeys, goat cheese, local coffees, variety of baked goods, chocolate covered bananas, kim chee, spices, treats and more.
Sample local foods and ono plate lunches and breakfast items weekly. Plus find out more about growing your own with KCC sustainable agriculture programs.
For featured vendors, special programs and market application, visit
kauaicommunitymarket.org
.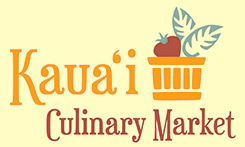 Kauai Culinary Market, a cooperation with Shops at Kukui'ula, is a weekly afternoon farmers market offering fresh tropical fruits, flowers, value added farm products like goat cheese, honey, coffee, plus variety of local treats inside the beautiful landscaped Shops at Kukui'ula shopping destination.
Held Wednesday afternoons with a "pau hana" atmosphere, the market features Hawaiian music, a weekly cooking demonstration, baked goods by Living Foods market, and a beer and wine garden by Merriman's.
»
Download market application
» Visit
kauaicommunitymarket.or
for information.